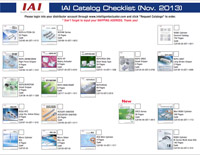 The IAI Catalog Checklist for November 2013 is now available.
One new catalog is added to the list.
Please click here to download the PDF (260 KB)
For catalog ordering, login into your distributor account at Distributor Login and order via "Catalog Request Form." Please don't forget to input your SHIPPING ADDRESS.
Thank you!
* PDF catalogs are downloadable from here.